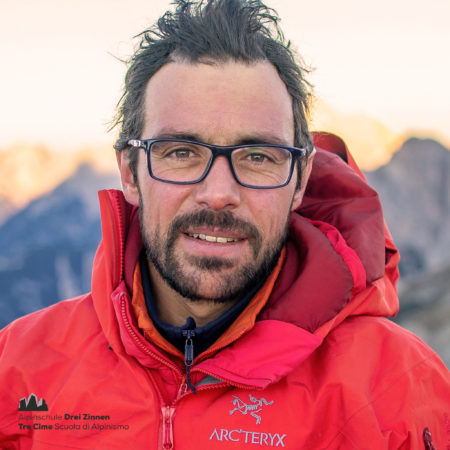 Daniel Rogger
Mountain Guide, Cross Country Ski Instructor and Ski Instructor, Vice CEO alpineschool Tre Cime
Mobil 0039 340 77 86 878
daniel@alpinschule-dreizinnen.com
Daniel had very early contact with the mountain world, because when just a baby, he spent his summer on Rifugio Pian di Cengia which is run by his family. He went on his first mountain tours with father and uncle when still a child.
In his youth, Daniel focused more and more on skiing and cross country skiing, and for several years he was a member of the South Tyrolean biathlon team. Then his passion for climbing began to dominate and he decided to spend more time in the mountains. He studied Philosophy in Innsbruck, where he did not necessarily impress with his attendance levels because of the many climbing tours and trips abroad, but he finally completed his Bachelor's degree. During this period, he repeated some difficult tours at home and abroad, and also achieved some challenging first ever climbs, such as the "Venga Gondoliere" (9.A2) on Torre Venezia, "Ohne Rauch stirbst du auch" (9+/10-) on Cima Grande, and "Freakonimics" (8) on the Eiger north face.
Since 2012 Daniel has been working as a professional mountain guide who through his work in the mountains strives to gain deep impressions and experiences.